An Introduction to Drupal CMS (for clients)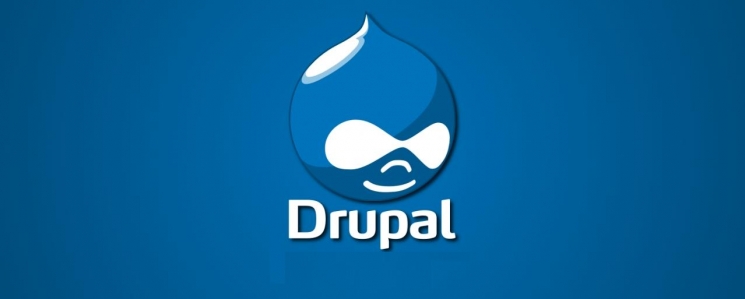 For about 95% of all the websites I build I use the Drupal Content Management System (CMS) https://www.drupal.org/. In this blog I want to outline more about Drupal, not just from a web development point of view, rather from a website owner's perspective and why I personally use it.
Firstly, what is Drupal and what is a CMS?
Drupal is an open source website Content Management System (CMS). This is a platform that is used to build your website. Drupal contains a 'core platform' and then thousands of various modules which can be added to perform different functions and features on your site such as a blog, contact forms, shop, live chat etc. Drupal is completely free to use and is maintained by a community of over 1 million developers, programmers, designers and interface specialists.
Of course it is not as simple as just downloading Drupal, installing it and 'presto' your website is ready. What Drupal does however is provide a very solid base foundation which can be customised to suit your own unique needs for design, features and purpose. This saves a lot of time and money when compared to getting someone to develop your website from scratch using a custom system. In essence this is why all website CMS's (not just Drupal) are so popular because there is no need to reinvent the wheel every time a website needs to be made.
How Popular is Drupal?
In terms of global CMS usage, Drupal usually ranks between the 4th and 6th most popular platforms used to build websites. Other popular platforms include WordPress, Joomla, Magento, and ModX which you may have heard of too. Each CMS is different and has it's own good points and bad points. Having used many other CMS's I just personally find Drupal to be a great all-round option and have used it for over 8 years so am much more proficient using it than other options. It is generally accepted that Drupal has a steeper learning curve to develop with than other CMS's, but with this also comes more flexibility to customise and hook into the core system to build very complex website features and systems.
Who else uses Drupal?
Because Drupal is so flexible, well-maintained, stable and has thousands of modules, it is used by many prominent websites. Some of the most visited and largest websites in the world choose to use Drupal, including.
The USA, Australian and English Governments
International media outlets including BBC, NBC and MTV
As well as these high profile websites, Drupal is used by millions of other small, medium and large websites across the world. It is just as suitable for a small business looking to have a web presence in their local area as it is for a multinational organisation with millions of visitors and pages. Everything is scalable.
Easy for owners to add & edit their own content
This is a very big reason why I like using Drupal. Many clients like to be able to manage their own website content themselves without having to call me up everytime they need a new page or product added or changed. In the back-end Drupal is very easy to navigate. It is as simple as logging in with your special username and password and clicking on a page to edit it, or clicking a link from the admin menu to add new content.
Below is a screenshot (as I write this blog right now) of how easy it is for you to write a new article or add a new product for your own website. In particular the image resizing/manipulation system in Drupal is very powerful.When you upload one image of any size for your new page this can be setup to automatically resize and compress to appear in different sizes in many other blocks on your website from uploading just that one image.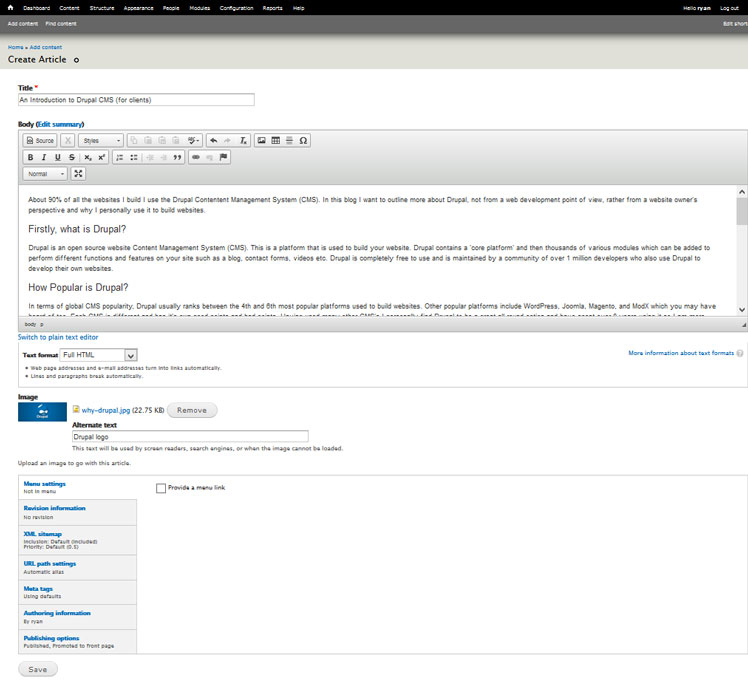 Kept secure & up-to-date by the community
The 1 million plus Drupal developers and programmers who contribute to the community all work together to keep the Drupal core system and modules up-to-date. The most important part of this is that any new security vulnerabilities are addressed immediately and updates are made to account for these. I usually recommend updating your website and modules every 1-2 months which is a simple process that takes me approximately 10 minutes. Doing this ensures that your website is safe, secure, running optimally and will not get compromised by bugs and hackers. This is much quicker and cost-effective than if you choose to have a custom website platform made for your site or if you choose a less widely-supported CMS. Doing this the developers who make your website will have to spend a great deal of paid time addressing security and performance issues themselves which can be very costly.
Widely supported & your website ALWAYS belongs to you!
Many web development companies use their own proprietary CMS or will make your website from scratch using a custom system. If you decide you are not happy with their services it is very hard (sometimes not even possible) to choose another company to look after your website. This is because either the company will not allow you to transfer your website outside of their services or it is very difficult to find a developer who knows how to use their system. With Drupal there are millions of web developers who specialise in this CMS (such as myself). This means that you will always have support on-hand if you need something updated or added or fixed without being locked into contracts or paying a developer to learn a brand new system, which will end up costing you a lot more.
SEO Friendly
When properly setup, Drupal has a very powerful Search Engine Optimisation (SEO) capacity. This is configurable automatically through some great modules and an easy-to-use interface for each page. Everything can be integrated at the start to ensure that all the important 'onsite' SEO criteria that Google loves like descriptive metatags, automatic sitemap entries, image descriptions, structured menus, changing front page content, canonical URLS and much more are met. Additionally, because content is so easy to create by even the most non-technical website owners, it means you can do a lot of this yourself. The more content you have means the more pages about things potential visitors are searching for will rank in the search engines. Drupal also integrates very well with your social media accounts and can be automated to post or receive updates from these accounts for publishing.
Conclusion
I hope this article sheds some light on Drupal and why I love recommending it for my client's websites. For over 8 years now I have built all types of websites with Drupal; from simple small business webfronts to advanced interactive feature-rich websites. I can happily say it has always done the job and I have nothing but praise for all the people who help support the Drupal community and provide such a great free open source solution for developers.
If you are looking to make a new website or would like to update your old website, feel free to get in touch with me below and we can have a chat. If you have any other questions about Drupal or websites drop me a line and I can help with this too.
- Ryan